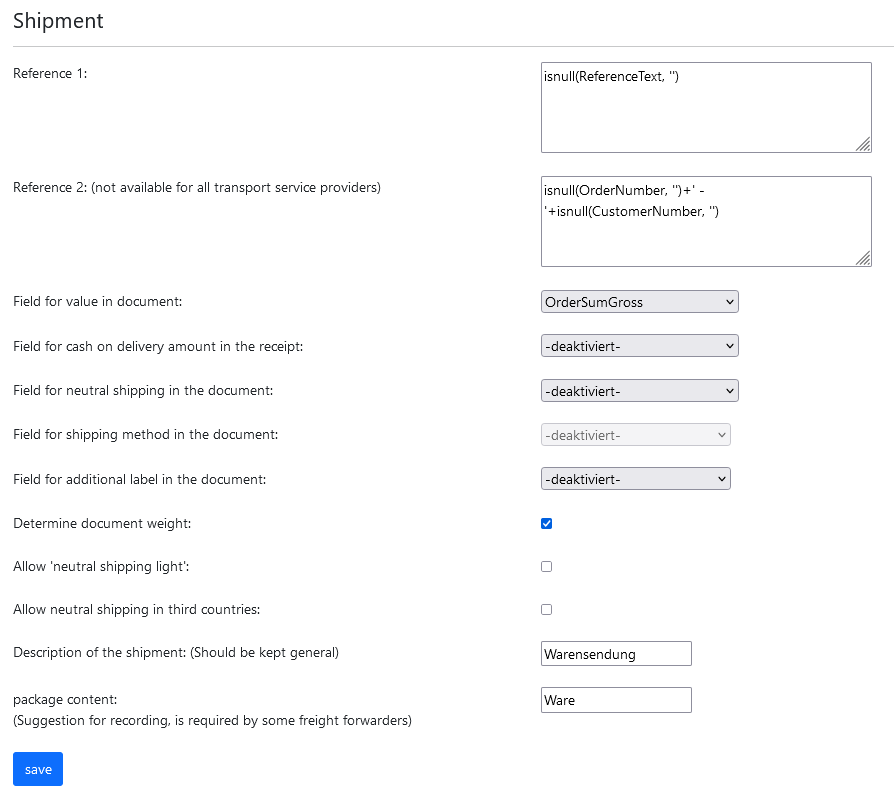 Reference 1 & 2:
The reference numbers can be defined here.
This information is then on the respective shipping label, if your transport service provider supports this.
Field for value in receipt:
Field mapping for shipment value.
Field for cash on delivery amount in receipt:
Here you have the option of defining a receipt field in which you enter the cash on delivery amount. As soon as something is entered there, we read the entry and automatically add the option "cash on delivery" and the corresponding amount to the shipment concerned.
Field for neutral shipping in receipt:
You can set a flag in the receipt so that the shipment triggers a neutral shipment. This flag is ignored if no different delivery address has been specified. It can therefore be permanently stored in the customer master data and transferred to the receipt.
Field for shipping method in receipt:
Here you can set a different field for assigning the shipping type/delivery conditions. If this field is greyed out, your ERP does not support this option.
Field for additional label in receipt:
You can create a field in receipt in which you enter the shortcut of the desired additional label so that it is selected automatically.
Determine document weight:
This setting causes the software to determine the weight automatically and show you a recording suggestion. Deactivating this option has no effect on the registration of dutiable shipments.
Allow "neutral shipping light":
As a rule, it is not possible to ship with a neutral sender address from abroad.
With this option, the name of the neutral sender is entered instead of your name, but your sender address remains the same.
Allow neutral shipping in third countries:
Usually, the attempt to create a neutral shipping to a third country leads to an error message from the transport service provider. If, contrary to expectations, your transport service provider supports this functionality, you can check this box to deactivate our check and allow neutral shipping to third countries from our side.
Description of the shipment:
A general description of the goods you are shipping. This is required by some forwarding agents and should be filled out as a precaution.
Package content:
A suggested description of the package contents, as some carriers require this. The suggestion can be changed in the shipping window, but should also be filled out as a precaution.